WOW, What can I say!
Thanks to all those who attended Cobra Roundup at Thunderhill Raceway! What an awesome job you guys did! I can't tell you how impressed and honored we are to have such a wonderful group of people attend this very special event! I should say that YOU made it special!!
Let me tell you that Thunderhill is not an easy course to get comfortable with, especially in a Cobra. As you now know, it's tricky with 3 miles of off-camber, diminishing radius, blind turns, and some fast straights. The track questioned us for running the bypass at turn 5 and the full course, but we did it anyway and you guys kicked butt!
Hats off and major kudos to all of you! You all ROCKED out there!! There was no screwing around, we stayed on schedule, the track was hot from 9am to 5pm and y'all ran every session with no issues, no tows, no contact, and showed the respect to each other and the track like seasoned track dawgs. Bravo and Well Done!!!
I'd like to thank Karen & Eric (my right & left hand), All River City Shelby & FFR NASA Instructors (all the other parts of my body), Dave, Rick, Rich, Andy, Morgan, Ron, Ed, Mike, Diane, and Jerry (of NASA), Gary, Gordon, Don, Pete, Donn, and Joan (of the River City Shelby Club). Special thanks to those who stepped up in the heat of the moment to help with grid (all day) and tech. Thanks Ron, Howard, and I think Tasha's dad! Thanks to Allen & Zach of Thinktankcc.com for our Cobra Roundup imagery, Jim for the great shirts & caps, Steve at Head-On Photos for doing a super job and making us all look good out there, Duane and Dan for showing up with cameras and smiles, and Shannon & staff of Thunderhill Raceway for having us and doing a great job. I know there are a few names I forgot but just know we appreciate your help and dedication so much.
When I got up Friday morning, it hit me. Although fun, there was just not enough time to socialize and enjoy each others company. So the one-day thing has got to go. The Roundup at Thill was a successful prototype event on many levels but we also realize it can be so much more next time. In short, we're already greasing the skids for CR'10 and will have more to share on that next month.
The response and feedback has been overwhelmingly positive and we thank you sincerely for making this a great event!
Please post any pictures you care to share on this thread and here's just a few for now.
Have a great summer and we hope to see you in 2010!
Thanks again,
John & Team CR
Donn, Joan, acMikey, Ron, Andy & Karen at Wednesday's Pow-wow lunch (missing a few chiefs):
Thursday morning Driver's Meeting with Mr. Eric:
Karen and her Ladies! Hot Stuff!
Karen sharing speed secrets:
The FFR Challenge Series folks put on a show with their rolling & standing start exhibition races: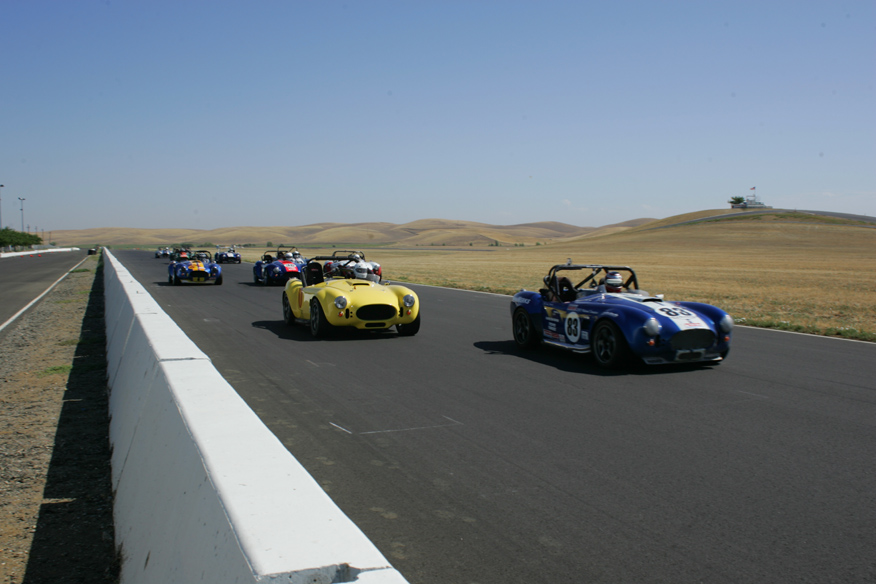 I actually let myself drive this time :-))
Just the cars we love and I think that's Dan out there too :-))
The Cobra Roundup Track Dawgs for 2009!